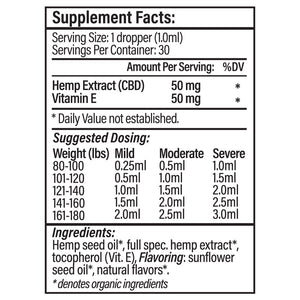 CBD Oil for Pets
Our CBD oil for pets is formulated for large dogs. It's an excellent choice for pets with arthritis, and sore muscles. It is also great for calming anxiety, stress, and restlessness. This high-potency tincture is made using our premium full-spectrum CBD extracts, combined with hemp seed oil and natural peanut butter flavoring to create a flavor dogs and cats can't resist. 
For easy delivery, drizzle the tincture oil over your pet's food at mealtime.
We formulate our pet CBD oil with great care. We guarantee the purity and quality of our products, as well as the precise measurements of the CBD content in every bottle. All our pet tinctures are third-party tested by an independent laboratory, to ensure no contaminants or heavy metals. 
Ingredients: organic hemp seed oil, organic broad spectrum hemp extract, tocopherol (Vitamin E), natural peanut butter flavor