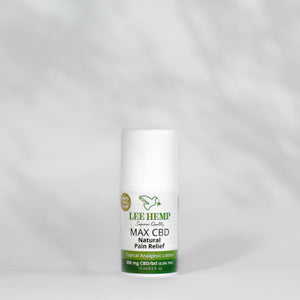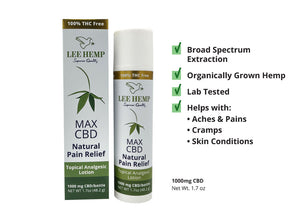 MAX CBD PAIN RELIEF LOTION
BENEFITS:
MAX CBD Pain Relief combines the instant cooling relief of menthol with the soothing power of Superior Broad Spectrum hemp extract in a unique CBD topical. You can feel it working right away by the instant cooling sensation that's perfect for all types of topical discomfort. Whether you're sore from manual labor or a rough day at the office, this gentle, fast absorption lotion helps ease temporary muscle and joint pain so you can relax and unwind. It also works great to help reduce all kinds of inflammation including bug bites, burns, and eczema. This will be your favorite recovery tool!
1000mg of CBD per 1.7oz bottle
300mg of CBD per 0.5oz bottle
Cooling menthol
Infused with emu oil & arnica montana
Made with organically grown hemp
Rapid absorption formula
For topical relief of aches & pains
Free of parabens, sulfates, and harsh preservatives
EASE AWAY DISCOMFORT
Menthol, a substance found in mint plants, provides a pleasant cooling sensation and temporary relief from muscle and joint pain, while CBD and the other herbal ingredients help soothe and reduce inflammation.
ENHANCE MUSCLE RECOVERY
MAX CBD Natural Pain Relief is one of the most popular CBD topical products that hard working Americans use for muscle recovery and pain relief. 
CONTAINS NON-DETECTABLE LEVELS OF THC
All our products that are listed as THC FREE are carefully crafted and tested to ensure they are THC-free. This gives you all the benefits of the hemp plant but nothing you don't need. 

EVERYDAY STRESS MANAGEMENT
Everyday stress can manifest as pain and stiffness in the neck, back, and shoulders. Unfortunately, that pain and stiffness can only make you feel more stressed. Using MAX CBD as part of your daily stress management routine can help you relax and break the cycle of tension.
SUPPORT A DAILY WELLNESS ROUTINE
Every good wellness routine involves activity, but it can be tough to keep moving if you're stiff and sore. Using MAX CBD can help you through those difficult days so you can maintain your activity level for optimal health.
DIRECTIONS:
 Perfect for daily use wherever you may experience discomfort, MAX CBD is designed for topical use only. Apply it to the affected area every 6-8 hours or as needed, massaging it into the skin until it absorbs. Use it for as long as the discomfort persists. You will notice a nice cooling sensation upon application.
While MAX is meant for targeted use, CBD tends to build up in the system over time. We always recommend using topicals as part of a daily CBD regimen. Try taking a daily CBD oil tincture or CBD gummies every morning and combine it with topical CBD throughout the day. This will help prepare your body for the many benefits of CBD, while also ensuring that you're experiencing the full broad spectrum effect.
Active Ingredients:                                             Purpose:
Cannabidiol (CBD) 2.0% (1000mg / bottle) 1.7oz        Topical Analgesic
Cannabidiol (CBD) 2.0% (300mg / bottle) 0.5oz
Menthol 2.0%                                                        Topical Analgesic
Inactive Ingredients: 
Deionized Water, Helianthus Annuus (Sunflower) Seed Oil, Emulsifying Wax, Glycerin, Stearic Acid, Glyceryl Stearate, Cetyl Alcohol, Caprylic/Capric Triglyceride, Lactobacillus Ferment & Lactobacillus & Cocos Nucifera (Coconut) Fruit Extract, Aloe Barbadensis Leaf Juice (Concentrate), Allantoin, Mixed Tocopherols, Xanthan Gum, Emu Oil, Hippophae (Sea Buckthorn) Extract, Arnica Montana Flower Extract, Salix Alba (Willow Bark) Extract, Hamamelis (Witch Hazel) Extract, Sodium Benzoate, Potassium Sorbate, Calendula Officinalis Extract, Matricaria Chamomilla Extract.