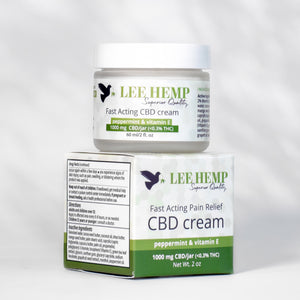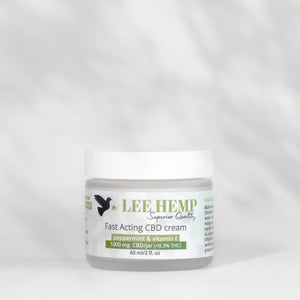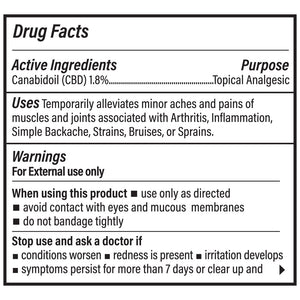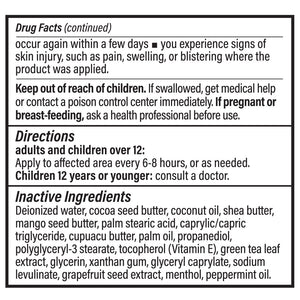 PEPPERMINT & VITAMIN E HYDRATING CBD TOPICAL CREAM
BENEFITS:
Soothe away joint and muscle aches with our Fast Acting Cream, a CBD cream enriched with pain killing medicine and a wealth of soothing herbal ingredients. Our Superior Full Spectrum hemp extract provides the soothing wellness and CBD while Menthol and Peppermint essential oils create a pleasant warming sensation providing temporary relief from minor aches and pains. 


Perfect for repairing dry and damaged skin
Cooling peppermint & menthol
Skin-soothing vitamin E
Made with organically grown hemp
Rapid absorption formula
For topical relief of aches & pains
Free of Parabens, Sulfates, & Harsh Preservatives
DIRECTIONS:
How much CBD lotion you need and how often you need it will depend on many factors. These can include your age, skin type, the current climate or season, and any other activities or products you're using that might affect your skin. But a good way to keep up your baseline skin wellness is to apply Fast Acting cream generously on any area that is in need of hydration and pain relief. Some people even find it helpful on bug bits, burns and many other skin conditions.  Avoid contact with eyes and mucous membranes. 
You can apply wherever you need it multiple times per day. If you are experiencing extreme tension, soreness, muscle or joint pain our MAX CBD Lotion can be a great addition. MAX CBD Lotion combines additional ingredients to help alleviate the most severe conditions.  
For the quickest whole body CBD benefits, try combining our topical CBD products with other options throughout the day. CBD gummies for those anxious and stressful times, and CBD oil for sleep so you can wake up refreshed and ready to take on whatever life throws your way!


Active Ingredients:                                                                 Purpose:
Cannabidiol (CBD) 1.80% (1000 mg / 2oz jar)................................Topical Analgesic
Menthol 2.0%..............................................................................................Topical Analgesic
Ingredients: Deionized water, cocoa seed butter, coconut oil, shea butter, mango seed butter, palm stearic acid, caprylic/capric triglyceride, cupuacu butter, palm oil, propanediol, polyglyceryl-3 stearate, tocopherol (Vitamin E), green tea leaf extract, glycerin, xanthan gum, glyceryl caprylate, sodium levulinate, grapefruit seed extract, menthol, peppermint oil